House Democrat Does Mean Thing
I always write nasty stuff about Republicans and conservatives here, so I'm putting up this diary to show I'm broad-minded:
Lawmaker Is Accused Of Assault At Dulles

Calif. Congressman Faces Charge in Baggage Dispute

By Jonathan Mummolo
Washington Post Staff Writer
Tuesday, August 21, 2007; Page B01

U.S. Rep. Bob Filner (D-Calif.) has been charged with misdemeanor assault and battery for allegedly pushing an airline employee at Dulles International Airport on Sunday during a dispute over baggage, authorities said.

Filner, who represents the San Diego area, "attempted to enter an area authorized for airline employees only" while in the United Airlines baggage claim office and "pushed aside the employee's outstretched arm and refused to leave the area when asked by an airline employee," according to a Metropolitan Washington Airports Authority police statement.
(I put up Filner's picture below, which ran with the news story. He looks real mean in the picture:) (continued)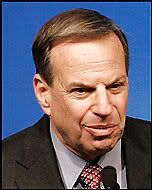 (Doesn't he look mean, in that picture? "Let me by, you low-rent security flunky, I'm a damn Congressman! Here, I'll give you a good shove, that'll teach you--ooo--Ha! Gotcha. Right in the arm, too.")

The female airline employee, whom police did not identify, appeared before a Loudoun County magistrate that evening, and Filner was charged with assault and battery. If convicted, Filner faces up to 12 months in jail and up to a $2,500 fine under Virginia law.

Police said the employee did not require medical attention.
(Yeah, well...)
Filner disputed the account in a brief statement issued by his office. "Congressman Bob Filner is on his way to Iraq, visiting our troops, and will have a full statement when he returns. Suffice it to say now, that the story that has appeared in the press is factually incorrect -- and the charges are ridiculous," the statement says.
(I don't care. He still looks mean, to me. Stop picking on women, Congressman Filner.)
United Airlines also released a statement, saying: "United regrets that the customer experienced a delay in claiming his bag..."
(If only we *were* allowed to give airline employees a good hard shot in the arm when they took too long to get us our luggage. But at least the guy carries his own bags. And he's sixty-four years old. Seems like a pretty responsible guy, otherwise:)

Filner, 64, was first elected to the House in 1992 and is the chairman of the Committee on Veterans' Affairs. He has advocated for veterans' benefits for Filipinos who fought with U.S. forces in World War II. He also has introduced the Military Environmental Responsibility Act, which would require all U.S. defense-related agencies to fully comply with federal and state environmental laws.
(But he looks mean, and he was mean to an airline employee, so I guess that other stuff doesn't count now.)
Labels: Bob Filner, Congress, Democrats